Meet the fleet - Alfred the workhorse
Posted on
It seems a bit unfair to not mention Alfred, our Series 3 FFR. He has been with us since Autumn 2005 and is our current shop workhorse. He is an early 80's British Leyland beast. He only had two previous owners before us and was despatched with scant regard when the MOD cleansed their massive fleet of Series vehicles in the early 2000's.
In his time with us he has been through a few incarnations. When we bought him he was a standard 24volt Fitted For Radio specification long wheelbase. When the petrol engine died in early 2008 he was fitted with a 2.5NAD from an early Land Rover 90. At the same time he was converted to 12volt. When the gearbox popped its cogs, we rebuilt the unit and even treated him to a rebuilt overdrive. The chassis, along with the bulkhead, is the original and has not been welded thus far.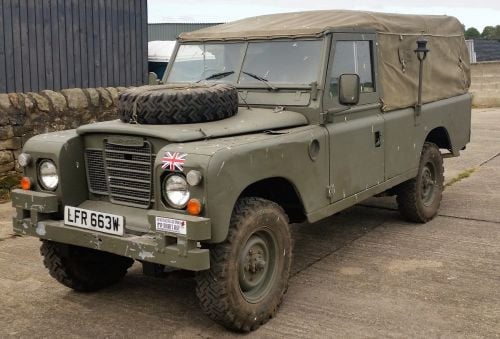 Alfred is used daily so is serviced regularly and maintained regardless of cost. Whether it is being a tug hauling project vehicles around the yard, taking components to suppliers, or doing local collection runs, he is our first choice and our only shop gopher.
He is also treated to the occasional pre-emptive modification and fitted with a few creature comforts. For example you can find twin 12volt power outlets wired in to the dash. We also have parts on the shelf to upgrade the headlamps to halogen type from sealed pre-focus, so we can see a bit better at night. The diesel engine is also set to be despatched as we have recently sourced an early 90/110 2.5 petrol unit to be fitted in its place.
Alfred is not standard spec by any means. We see him as an evolution of a good base vehicle. One of the reasons we go the extra mile to retain originality in our project rebuilds these days is to make up for the conversions and modifications made to this vehicle over the years. It keeps us feeling guilt free.
All the best
Gavin