Project Rover 11
Posted on
Just occasionally we get wind of an interesting project vehicle that we just cannot pass on, even if it has to sit in the corner quietly for its time in the workshop. This particular Rover has been in the collection since September 2009 and we have plans to have it running before our tenth anniversary of ownership.
This is a late Series 2a leaving Solihull in October 1970. It served with the RAF until being cast in 1983. It appears to have had only one valid MOT and then has been stored ever since and passed through several owners gardens. Thankfully it appears to be quite original with no real signs of civilian ownership, and did come to us complete, despite what it looks like in the photo below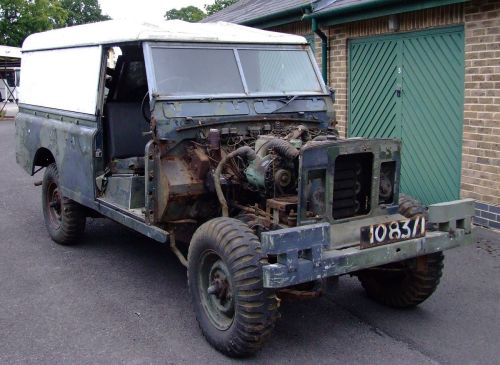 It is quite rare in that it was always an RAF vehicle. I am led to believe the RAF did not buy massive fleets like other forces divisions and tended to add requests to Army contracts. But this Rover 11 was built on a RAF only contract. It is also 24volt but originally a "General Service" spec before becoming a "Fitted For Radio" spec during a recommissioning in March 1980. Most 24volt Land Rovers I have seen were FFR from the outset.
So, being a little oddball has set us some challenges. The wiring loom is not standard. For example, the headlights have their own individual feeds that run down both inner wings in a U-shape: normally the wiring crosses between lamps from one side to the other through the radiator panel. We have had Autosparks build a custom loom to retain this rare feature.
The chassis is rotten. At some point someone has started repairs by replacing the rear crossmember, only to find the rot extends further up the chassis leg, beyond the rear spring hangers. The bulkhead outriggers are paper thin where present. We took the decision early on to rebuild this truck onto a brand-new galvanised chassis.
It looks to have the correct reinforced Rover rear axle, all the interior looks original, all the gauges are there, it even looks to have its original wheels complete with nicely cracked bar grip tyres – they still hold air but are not fit for road use. The Rover would have left Solihull as a hardtop but was converted to a canvas roof when the FFR work was completed. I guess the white top now fitted was put on when the canvas rotted through.
As it has been stood for so long, we will do a full strip down and repair/restore all components as we go. We have already stripped, checked and refurbished the axles. We have stripped all the wiring out to be able to send the loom to Autosparks to copy. We have a galvanised chassis for it and, as parts are finished, we will start the rebuild process.
So please bear with us on this one and keep checking back for updates. It has been with us for over nine years but we now have amassed all the parts needed. Some project speed acceleration should be expected however!
All the best
Gavin