Project Lightweight
Posted on
This was almost an impulse buy. How often does a 2a, lights-in-middle Lightweight appear almost on your door step? They are super rare. I think the figure banded about is just short of 3000 2a models, around half with headlights in the grille. If you think about it these, and all Lightweights, are rarer than any Series 1 ever was; around 220,000 produced verses sub 20,000 for the Airportable.
So our Airportable is a very very early example of a "Truck, General Service, 1/2ton, 4x4, Rover I". It was born in Solihull on the 18th November 1968 and was part of contract WV7477, the first batch of Airportables to enter in to Royal Marine hands. It entered service on the 13th Jan 1969, where it served with 41 Commando until Sept 72. It was eventually sold off in 1976. It only had a few months with owner number one, but then 40 years with the 2nd. The guy we bought it from had only had it a year but wanted the garden space back for other things, so it was put back on the market.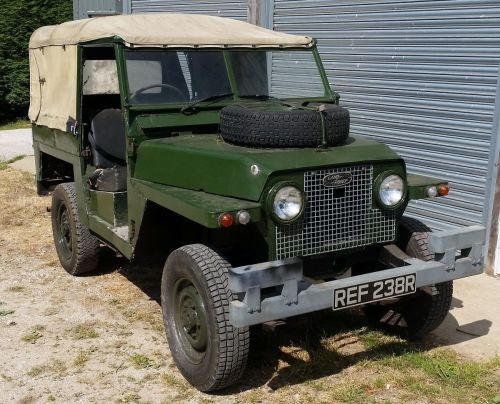 We feel it has retained a fair amount of its originality, simply by just having one owner for a long time. Although it does have a few quirks, probably for the same reason. It still has its split tailgate, although the lower leaf is made from wood. It has lost the tool box from the wheel well. The wiring to the rear tail lights is a mess of scotch blocks and tape from when a civvy tow hitch was fitted and electrics were spliced in. The convoy light is gone but it never gained a cab heater. The oil cooler has gone along with the top of the passenger side fuel tank; cut off to make a battery box. It has had a full repaint in what looks like red oxide primer then gloss deep bronze green, but you can still see all the previous brush strokes.
The intention with this one is to spend some time sourcing the correct parts that have disappeared over the years. Then, once the Rover 11 is out of the workshop, to strip the Lightweight completely down and rebuild. In the meantime, it will be on the road clocking up the miles. Some trucks have to earn their keep and despite this being a rare vehicle the same rules apply.
All the best
Gavin