2019 Quarter 1 update
Posted on
And then suddenly we realised the calendar said it was April! Just a brief catch up on all the going on's at GLF HQ.
January was a fairly gentle month and we think that was mostly down to Decembers excessive mince pie consumption. However, our workhorse 109 Alfred got some new shoes in the shape of Defender 110 steel wheels fitted with almost new Michelin Latitudes. Why should a Series not benefit from a 110 being tarted up with alloys? The Latitudes are so much quieter than the Security branded Michelin Extra Traction copies we are going to have to do something about that rowdy diesel engine next. Stay tuned. . .
No progress to report on Project Rover 11 or our 2a Lightweight. We are still squirreling away parts as they crop up. We do keep an eye out for rare parts and even managed to get hold of a genuine Series Hi-Cap mid-bulkhead complete with cappings not drilled for lights this month. Keep that quiet mind, don't tell everyone what we have hidden away!
We had a Defender 90 in for work in mid-Feb. What started as a "can you fit these seats" turned into fit seats, stop the rear axle leaking oil, change the a-frame ball joint, fit new glow plugs along with a full health check and review. This truck will be back with us soon for a new clutch and, when the weather warms up a little, an under side underseal.
March saw us deliver two refurbished Series 3 gearboxes to their new owners. One of the boxes was a custom build. The customer required a full-synchro Series 3 box but wished to keep his early style clutch mechanism in his modified 80inch Series 1. This was achieved by using a late 2a bell housing on an otherwise stock Series 3 gearbox. Sometimes the relatively slow evolution of Land Rover parts is a bonus!
Our Fairey Overdrive rebuild kits continue to sell well. We are even beginning to see our kit packaging in the background of units being sold on that auction site. We are in fact down to the last few kits from the second batch we made up. More will follow so please don't hesitate in ordering.
And finally for this post, make sure you look closely at page 79 of May's Classic Land Rover mag, its amazing what you might see there: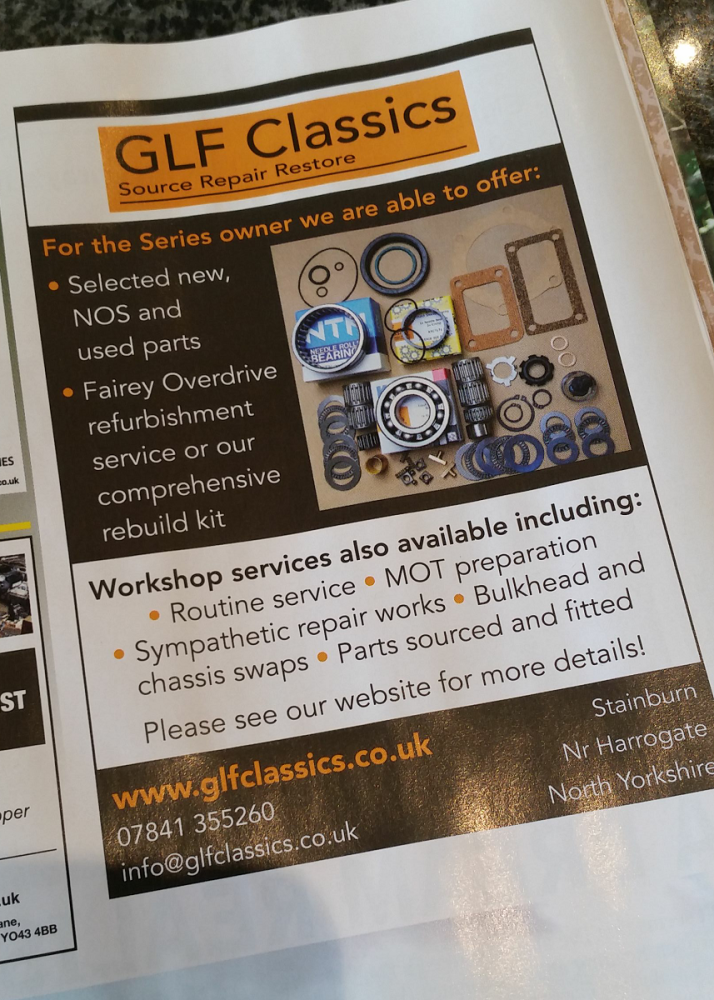 TTFN!