The Fairey Overdrive, as fitted to the 4-cylinder Land Rover Series LT76 vehicle, has quite a reputation and in all honestly not all of it is good. Tired units can howl, some seem to drink their oil whilst others will give years of hassle free quiet running with minimal maintenance. Many tinkerers have tried to come up with alternatives, but all options seem to have mixed reviews. Diff swaps, high ratio transfer boxes etc all have their own foibles. The Fairey Overdrive was a dealer fit option when new so it must have made sense to the engineers back then.
Designed originally as an economy measure, but most likely used nowadays as a fifth gear, we think they still deserve their place in the vehicle. We have one in our 109 and in hilly Yorkshire it is mostly used as a splitter box between third and fourth when the road begins to stretch towards the sky. Not the intended use, but one that sees us using the unit on a daily basis.
We realise these units are now getting old and many could do with a refresh to allow them to continue functioning for many adventures to come. As such, we have introduced a complete overhaul and rebuild service for the customers own unit. Due to recent price increases for used units we are currently unable to offer an exchange service as we have no core units in stock.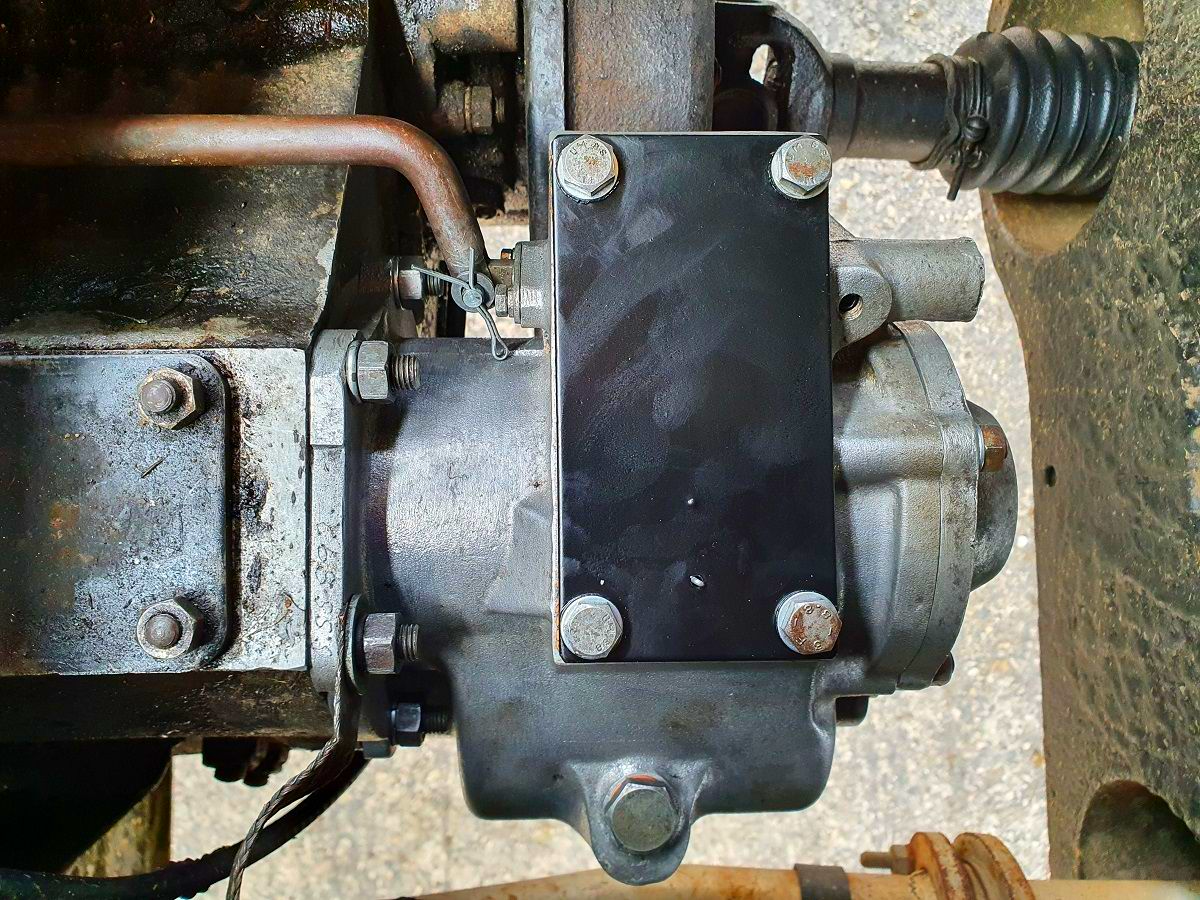 On receipt, the clutch sleeve and overdrive unit is dismantled, thoroughly cleaned in a solvent bath and all components are checked for damage and assessed for suitability for reuse. The customer will be notified if components are found damaged and cannot be reused.
On reconstruction, all oil seals, gaskets, circlips and o-rings are replaced with new. The synchro hub is refreshed with new springs, balls and blocks. We also discard all of the old bearings and replace with a complete fresh set. The bearings we use are all high quality pieces from the likes of SKF, NSK or NTN.
Before we return the Overdrive, it will be fitted to our 109 and taken for a test drive for a through test. Once we are satisfied, the unit is returned to the customer with an insured courier. In the parcel we will include a new lock washer and nut for the clutch sleeve and a little tub of ROCOL anti-scuffing-paste.
Any parts beyond those stated that are found to need replacing, are done so at component cost only, no additional labour time is charged. To complete the rebuild takes around two days of workshop time and we aim to get units back in the post to customers within two weeks of receipt.
The charge for this service is £440, with the only additional cost being the postage to get your unit and clutch sleeve to us, plus any other component replacement costs
Absolutely no problem!
We have several sets of output gears and rear bearing carriers that we can loan out for the cost of the postage plus a £100 deposit, refundable on return of our parts. Just let us know when you place your order and we can get them in the post to you.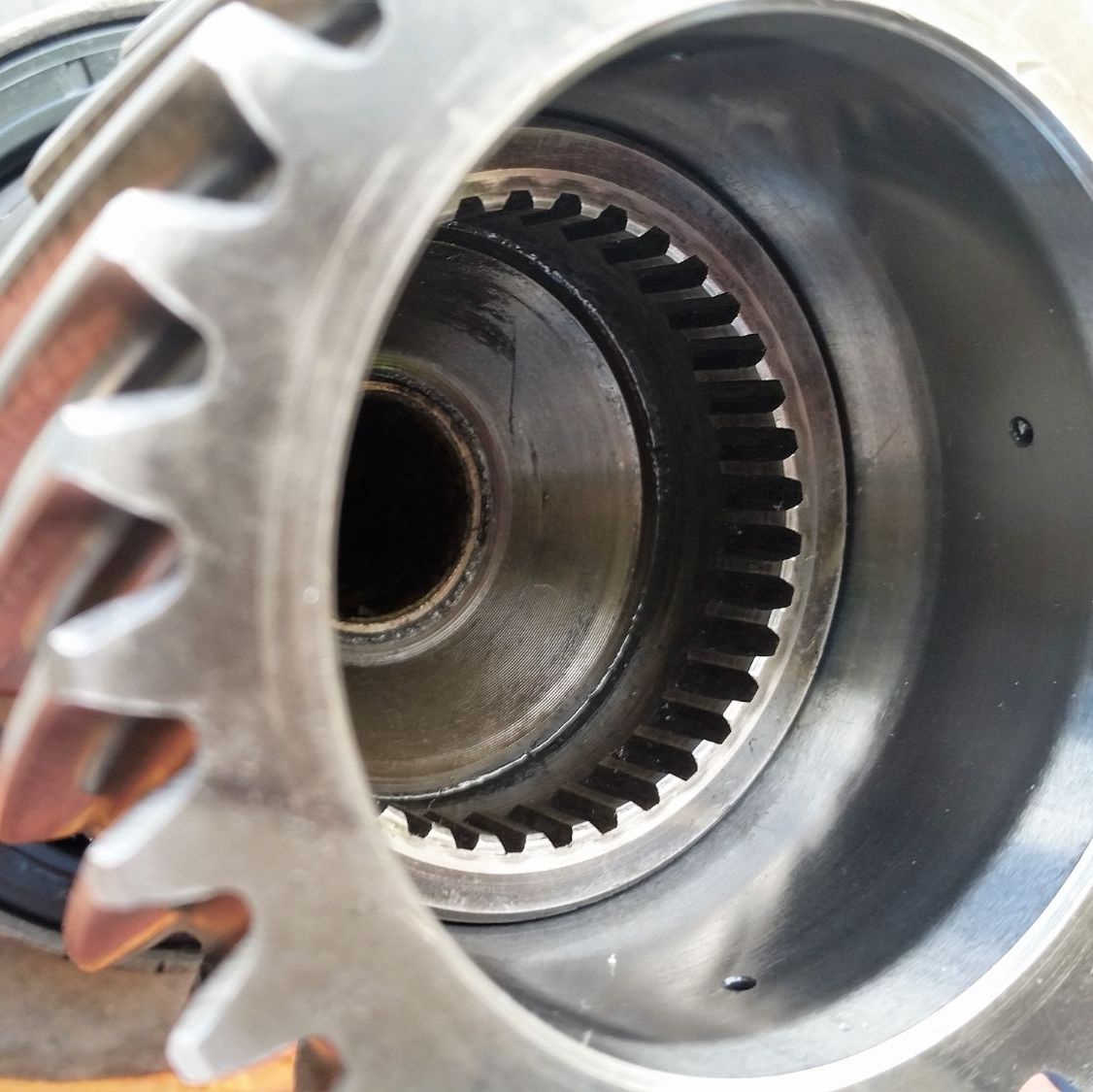 The most common damage seen beyond general bearing wear, is damage to the input shaft and the clutch sleeve that fits on the back of the gearbox mainshaft. It is easy to check this yourself, as if the teeth are sharp and triangular, they need replacing as the unit will eventually lose all drive. If they are square and flat topped, like in the picture to the right, all is ok. To supply a new clutch sleeve, and supply and rebuild the main unit with a new input shaft, costs an additional £193 in parts; no additional labour time is charged. So a complete rebuild in this instance would be £613. This option would mean you would have as near as possible to a new unit, taking into account current part availablity.
The Fairey overdrive is quite a cleverly designed unit, so some of the internals are off-the-shelf items or used elsewhere in the Land Rover Series and later Defender transmission. Most parts are therefore readily available with a few notable exceptions. We have not been able to source new baulk rings, input or laygears for these units for some time now. They were available, but supply seems to have dried up. Neither the casing nor rear cover plate are available new but like most of the other components, we carry good stocks of good-used parts..
To book your unit in for refurbishment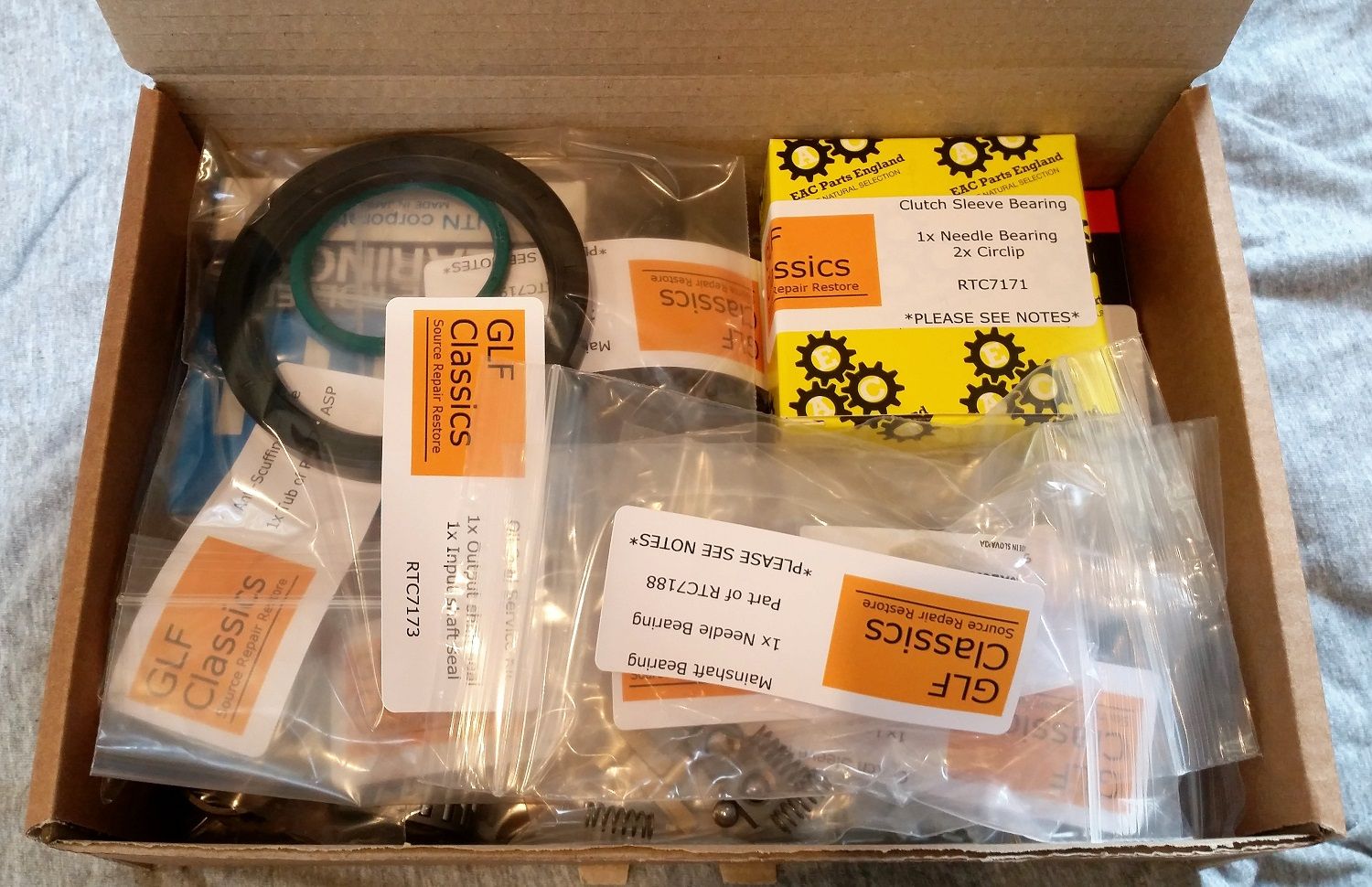 Comprehensive Rebuild Kit v4.0!
For the enthusiast and home mechanic, we can also supply a comprehensive kit of parts to fully rebuild the Fairey unit at home. This kit contains exactly the same materials as we use in our rebuilds, so with time and care, you should be able to attain a solid and reliable unit that will give you many years of reliable service.
Gaskets, o-rings, seals, all the bearings, enough ASP for the clutch sleeve, selector fork pads. . . it is honestly all there and will be delivered all in the one box. We even include a handy hints and tips sheet to help you on your way. Due to customer feedback we are now on the 4th incarnation of this kit. The latest kits provide a full set of like-for-like bearings over it's predecessor. This means no more shortening of the distance sleeves and will make a rebuild at home even easier.
The kit is available in our shop at the current price of £265 including mainland UK delivery via Royal Mail Special Delivery. Overseas postage is not a prolem, just contact us for a shipping quotation.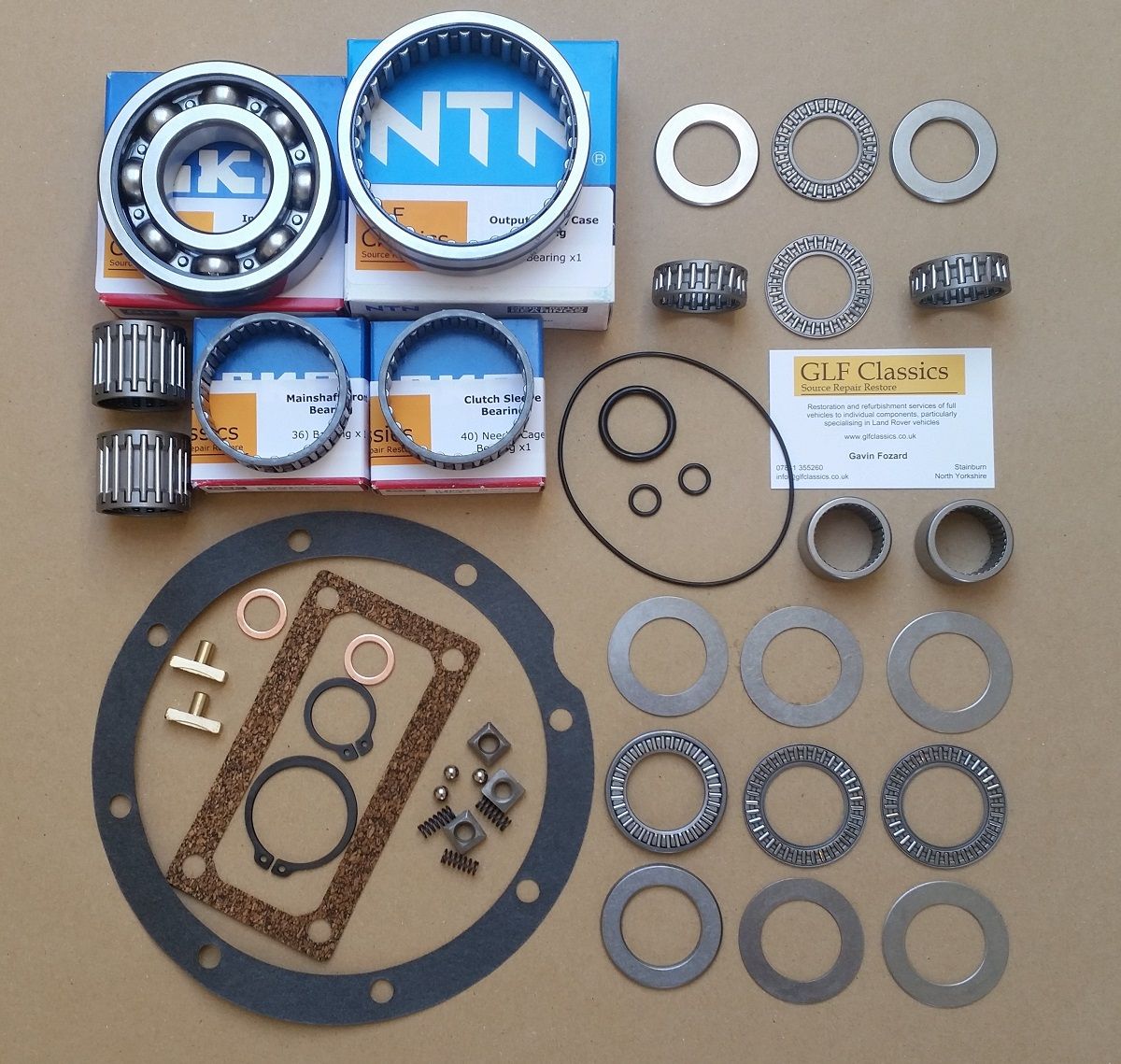 The LT95 Overdrive, as fitted to Stage 1 V8s, 101 FCs and Range Rovers is a much rarer beast than the LT76 equivalent. However, do not despair! We have been working hard in the background to try and assist where we can.
So, we are very pleased to announce a comprehensive rebuild kit is now available for pre-order via our web shop! £265 delivered to your door. All parts are clearly labelled and so can be cross-referenced to the included copy of the parts manual. Like our LT76 kit, this is not just a load of bearings thrown in a box for you to figure out what goes where.
We have also been cross-referencing LT95 components with the LT76 equivalents so, if the parts are identical, you will now find them listed in our web shop for individual purchase. It appears the LT95 unit was an evolution of the LT76 so we were pleasantly surprised by the similarities we found. A blog post is due shortly detailing the comparisons.